Contact Eric:
Phone:
Email:
Mail: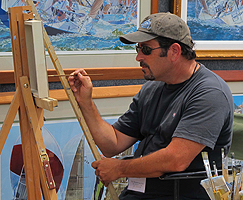 Rolling Stone Magazine article about Salem Sportswear
http://www.rollingstone.com/sports/features/big-heads-bad-boys-and-bird-how-salem-sportswear-changed-the-game-forever-20160513?page=5
Click on the link above and enjoy this Rolling Stone article about the company I worked at during this time. I was one of the caricature artists creating sports artwork for these ground breaking T-shirts. We had no idea at the time how we were affecting the sports licensing business.
About the Art Created Now
As a representational artist, I enjoy painting portraits, sports art and marine seascapes. I'm intrigued by motion & light and it's interplay with water as well as painting images of people, coastal lifestyles and events in motion, freezing moments in time that leave an impression with the viewer.
The challenge of capturing the energy in a composition is what fuels my passion to paint. I try to tell a story and to present the viewer with an opportunity to get lost within the work.
After developing an illustrative career painting in gouache, I am currently building a body of work in oils, with the motivation to create detailed, uniquely collectible paintings through my interpretation of composition, color and evolving techniques. I am inspired and motivated by every other artist I meet and see, and as a continuing art student, I am always trying to improve my skills by learning something new from the masters of the past and of the present.
I have spent my life painting, with the goal to continue painting and growing, continually exploring the themes that fuel my passion and further developing my painting techniques through observation and execution.
Eric painting a big wave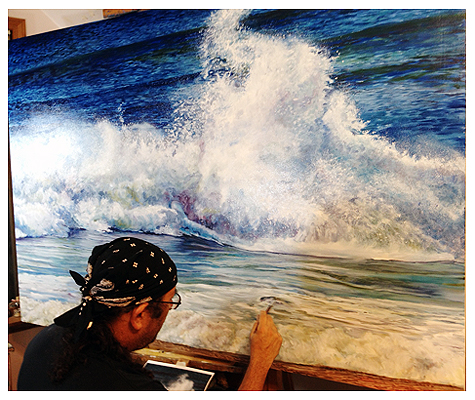 … still painting the big wave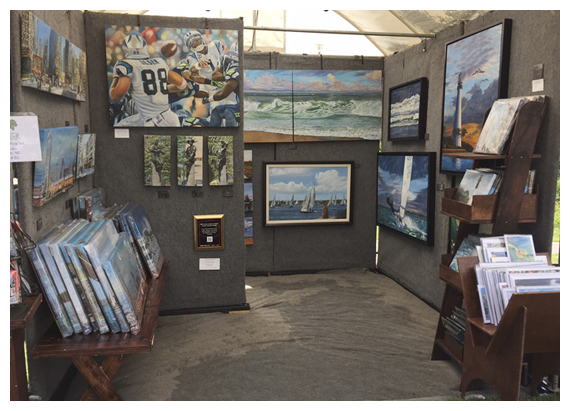 Our latest booth look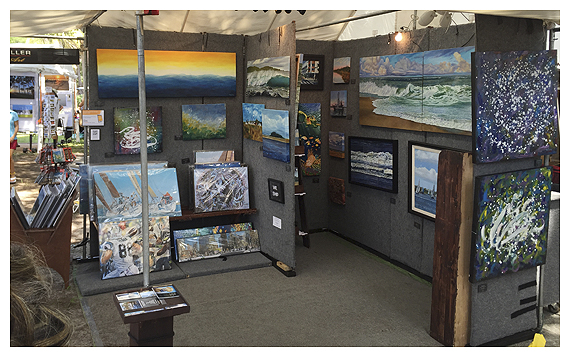 The latest variation to our booth at Fripp Island
Commissions are growing
We're keeping busy with commission projects too, having a great time painting personal memories for lots of new friends. If you've got that special image in mind that would make a great lifelong memory as a original oil painting, keep us in mind, and get on our schedule. We've created some fun paintings of family members, pets, homes and vacation spots that become instant heirlooms, and we'd love to do the same for you. So if you've ever thought that a favorite photo would make a terrific original oil painting... what are you waiting for?
Contact us with any questions and let us show you how easy it is to create that brand new precious family heirloom.
Signed and numbered Giclée prints are available of most of our images
We offer 16" x 20" paper prints, on a high-cotton rag paper, framable in standard size frames or 11" x 14" gallery wrap canvas giclée prints that don't require any frame at all. We also offer 18"x 24" gallery wrap canvas giclée prints, 20" x 30" canvas prints and even larger format (up to 40" tall) to fit that larger wall space. Also keep in mind... we can supply custom printed giclées to fit your space requirements, big or small. All our larger canvas prints are stretched on inch and a half thick gallery wrap stretcher strips, so all prints can be hung as is, without a frame, for a contemporary clean look, but still framable, to match existing decor.
Call or email us if you have any questions.